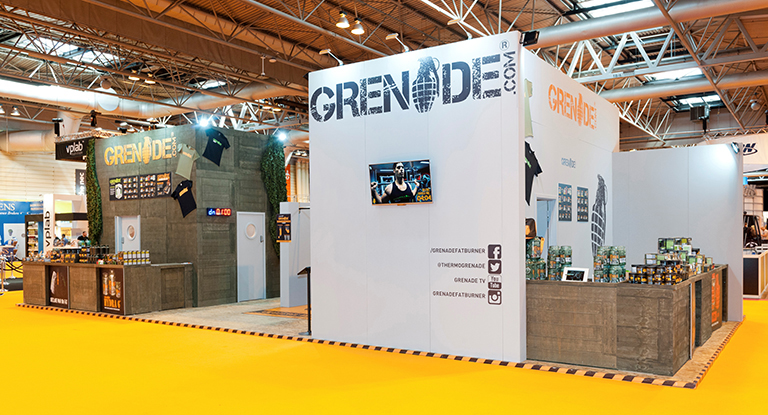 THE CHALLENGE
Grenade® is an innovative and trusted sports performance and energy brand that has grown rapidly since its launch in 2010.  Now selling Grenade® products to over 100 countries, Grenade® has a huge following ranging from professional athletes, fitness enthusiasts and military personnel worldwide.
In 2015, Grenade® was looking for an exhibition contractor to fulfil the design, manufacture and installation of upcoming stands booked at venues in Cologne, Las Vegas and the UK. To increase their brand awareness the challenge was to create a stand design that would have the same brand awareness for varied stand spaces booked.
THE SOLUTION
DD Exhibitions Ltd has vast experience in working with clients who similarly exhibit at events across the globe.
From initially providing a pre-design consultation, our designers then created a design concept where elements of the stand could be reconfigured to suit the stand spaces per venue, without compromising the look of the stand.
'We have been working with DDEX for a number of years for exhibitions in the UK, Europe and the US. Each exhibition, our booths get better and better.  The whole team at DDEX make it a smooth journey from design conception to the end of the exhibition. They are flexible and knowledgeable and find solutions to problems and have a 'can do' attitude.  We have a great working relationship with all the team and trust in them to deliver event after event.'
Juliet Barratt
CMO
Grenade
THE BENEFITS
DD Exhibitions has the knowledge and expertise to offer a full Project Management service, from concept to completion.  With new health and safety procedures being implemented by Event Organisers, companies like Grenade® can be assured that all required documentation such as Construction Phase Plans and Risk Assessments are completed to a high standard.  Any issues that may arise with stand plan submissions can be resolved directly between the contractor and the Event Organisers, without concerning the exhibitor.
ABOUT GREANADE®
Grenade®, supported by its 'Team Grenade' athletes are renowned for unique branding and marketing strategies and have been recognised with numerous awards both within the sports nutrition sector and in the global business arena. As a result, Grenade® is not only widely regarded as the world's fastest growing  sports performance / weight management  brand but also as one of the most exciting sports nutrition companies in the market today. 
Key Achievements:
European Diet & Weight Management Product of the Year 2013, 2014 and 2015

International Brand of the Year 2015 (major US website)

Fatburner of the Year 2013, 2014

Pre Workout of the Year 2012

Best New Line Winner 2013 – Reload Protein Flapjacks

Nominated for Breakout Brand of the Year and Best Packaging of the Year 2014 (major US website)

Sunday Times Virgin Fast Track 100 – 2014, 2015

Entrepreneur of the Year 2014 (UK finalist)