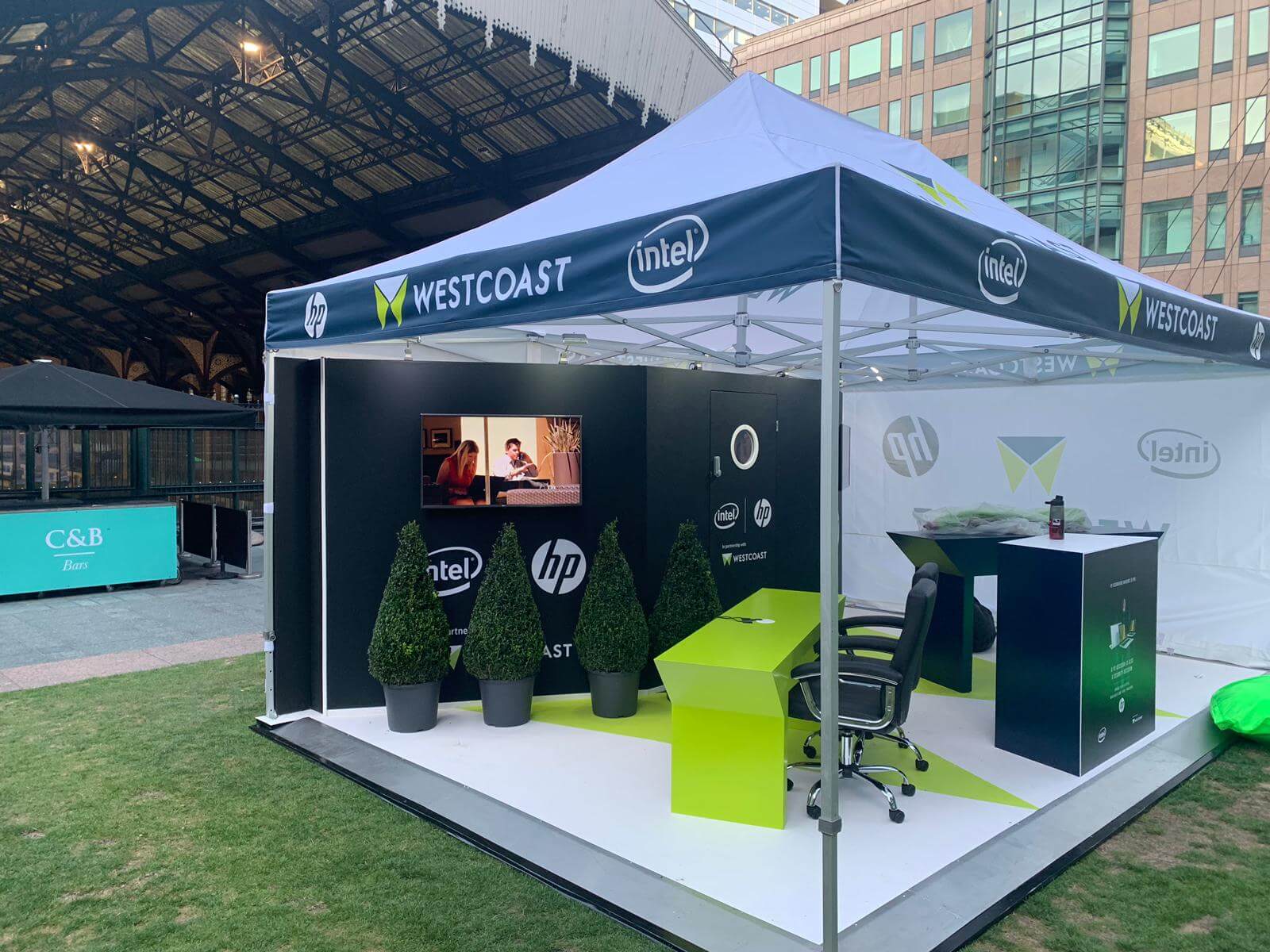 Exhibiting with an outdoor exhibition stand is an exciting opportunity for your brand. Whether at a music festival, sports event or an agricultural event, this is a chance to get creative with your marketing and make an impact.
Just like at indoor exhibitions, there is a significant amount of planning needed to ensure your appearance at the event is a success. In this blog, we run through the key stages of planning your outdoor exhibition stand to prepare you for the process and get the most out of your investment.
Step 1 – Setting your Budget and Objectives
Once you have your stand booked at the event it's important to set your budget and your objectives. For your budget, you need to consider what you want to spend on your stand and how you'd like to divide this between your stand staff, transport, accommodation, marketing collateral and of course on the stand itself.
When it comes to your objectives, you need to decide what the focus of your stand will be. This could be the launch of a new product or service, or perhaps to give attendees the chance to trial your products. Once you are set on this, you need to set sales and lead targets so you can measure your success.
Step 2 – Choosing an Outdoor Exhibition Stand Builder
Now you have your budget and objectives clear, it's time to find an exhibition stand builder who can help you achieve them. Choosing a contractor is a personal decision, but whatever your criteria is, be sure to check out any prospective contractor's previous work. It's important to gauge whether or not they are capable of achieving your vision. Once you've selected a contractor, it's time to give them a call and start working on a quote. To make the most of your call, make sure you have the following details to hand:
Name and Date of the event
Venue
Stand Dimensions
Budget
Here at DD Exhibitions, we have over 40 years of experience designing and building exhibition stands, and extensive experience working at outdoor events. To take a look at our previous work, see our gallery.
Call Us Today on

0161 509 6603
Step 3 – Designing your Outdoor Exhibition Stand
Undeniably, the most exciting part of planning an outdoor exhibition stand is the design process. Once you've completed your design brief, your exhibition contractor will work on a design for your stand. A good outdoor exhibition stand designer will take into account the full surroundings of your stand, making use of natural light and ensuring you have a level floor for the event. Your design should also work to achieve your objectives, so if it's all about getting new leads, there should be space to sit and have conversations, for example. Always do a final check that the stand design is going to suit your objective before you sign off and the manufacturing process begins.

Step 4 – Promoting your Appearance
Whilst your contractor is busy manufacturing your stand, it's time to promote your appearance at the event. Let all your followers and customers know that they will be able to find you there and give them a reason to visit your stand. Will you be running a competition they can enter? Or is it a unique opportunity to try a new product? Use your social media, email list and word of mouth to encourage as many visitors as you can to your stand.
Step 5 – Preparing for the Big Day
In most cases, your contractor will also transport and install your stand to the event. This means you can focus on the other elements needed to bring your stand together – your staff. Work on a strategy that your team can use to turn visitors into either customers or leads, and make sure you spend time training them so they can action it on the day. Consider what resources they might need to fulfil this, too. It could be branded clothing, clipboards and plenty of branded pens, for example. If you will be using iPads for data capture, then you need to make sure you have back up devices and chargers so you don't miss out on any opportunities. Your contractor is always there to give advice on this, so make sure you use their experience to make sure everything runs smoothly on the day!
Have you been tasked with organising your company's appearance at an upcoming outdoor event? Contact our friendly team of experts for advice and a quote to get the planning process started: 
Call Us Today on

0161 509 6603