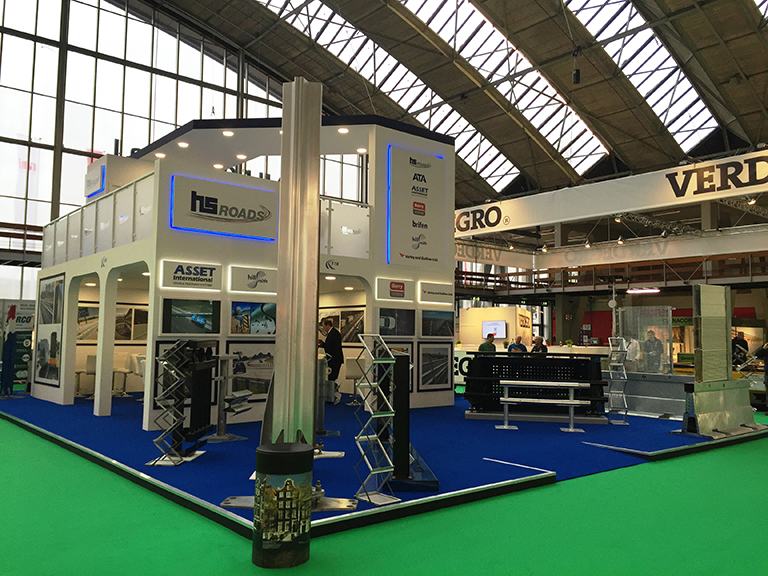 THE CHALLENGE
Hill & Smith are driving safety forward by manufacturing and supplying safety barrier systems that are used in over 30 countries worldwide.
In 2013 Hill & Smith decided to assign a new stand contractor that would design, build and Project Manage their stands for their forthcoming 2014 events in Amsterdam, Dubai, Abu Dhabi, Scotland, Birmingham and London. The first event on the calendar was Intertraffic 2014 in Amsterdam, which needed to promote five companies from the group within the same stand space.
As the space booked was over 150 sq metres, they wanted a stand design that would make a huge impact to visitors and suppliers attending the event.
THE SOLUTION
During the pre-design consultation, we were made aware that the company wanted to display a vast range of their products, whilst also incorporating a VIP area for potential clients. With this in mind, we presented designs of a double storey stand, where the upper level was designed as a meeting and bar area for private meetings, and the lower level as a product display area. This was a huge success, so plans to build the stand commenced.
THE BENEFITS
With at least five companies exhibiting under one stand, DD Exhibitions' full Project Management service was a huge benefit to the exhibitor. As the stand was a complex build, we liaised directly with the Show Organisers to ensure all building regulations were adhered to, so the client could focus on the planning of the actual show. We have since build a variety of sized stands for them across the UK and overseas, and also have five more events in the pipeline for 2016.
ABOUT Hill & Smith
Hill & Smith, part of the HSROADS group of Hill & Smith Holdings PLC., which has vast experience in manufacturing vehicle restraint systems including:
Steel Barriers – FLEXBEAM, FLEXBEAM PLUS and HI-FLEX are systems for highways, motorways and dual carriageways tested to EN1317
Wire Rope Barriers – BRIFEN is world renowned for its wire rope system, again used on the highways and alongside steep inclines. Tested to EN1317, NCHRP350 and specialised Swedish standards.
Hybrid Impact Protection – BRIFLEX incorporates steel barriers and wire rope to give the ultimate central reservation protection. Tested to EN1317 with a containment of H2 and a working width of W5.
Industrial Barriers – Off Road systems for protecting your assets.
With a policy to supply quality of service, tested and approved products, the company has developed a strong reputation in the field of road safety.
www.hill-smith.co.uk