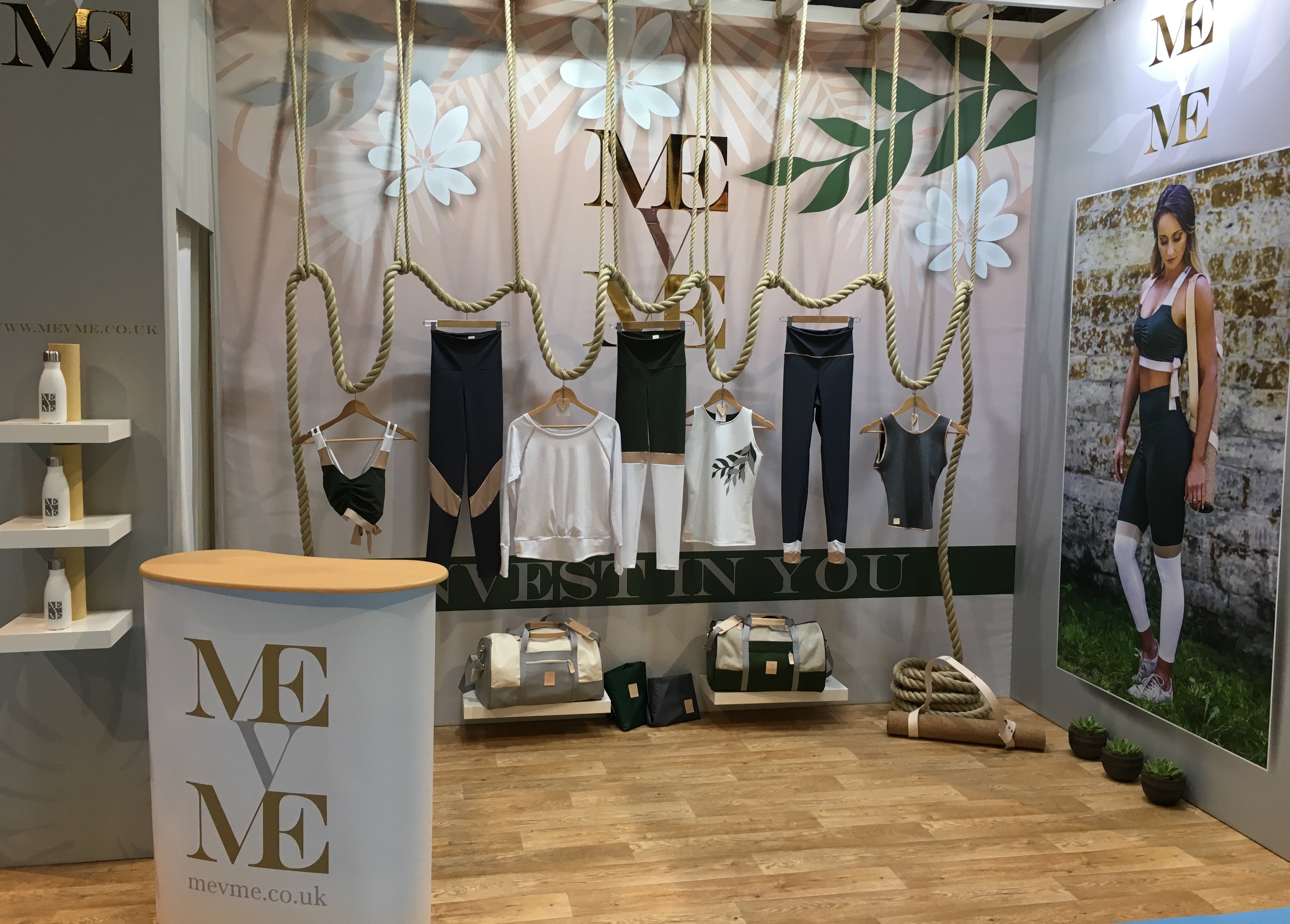 THE CHALLENGE
ME V ME is a female Activewear retailer, whose products have been inspired to motivate and inspire. As the company had recently launched their new KALON range, which is guaranteed to add a touch of luxury and sparkle whatever your chosen workout, they decided to exhibit their products at Body Power Expo 2017, at the NEC.
Body Power Expo is the world's number 1 fitness expo, and with so many established companies exhibiting, ME V ME needed a stand contractor to design an exhibition stand that would suit a small 8sq mtr stand space, that would still have maximum impact.
THE SOLUTION
DD Exhibitions has vast experience with a variety of companies, designing and building stands from small to very large complexed stands. Looking at the branding of ME V Me we came up with a concept that complimented their style, whilst still allowing showcase areas for their products.
"I just would like to say a really big thank you to you all for making our stand literally stand out! at the Bodypower expo this weekend. The finish was such a high quality and despite us being so much smaller than the other larger stands we stood out for all the right reasons. The stand still looked as great Sunday night as it did Friday morning and I was quite sad to see it taken down at the end. We had a fantastic response from the event and even had people videoing and photographing the stand who have since shared it on their own Instagram pages. Thank you too to the onsite team that helped me at the end on Sunday. Very tired after a long weekend their help to pack my counter away and get it to the car was so welcome! I'm really grateful!"
Kate Swinson
Founder and Director at ME V ME Ltd
THE BENEFITS
DD Exhibitions has the knowledge and expertise to offer a full Project Management service, from concept to completion. New clients can be assured that we will support them through the pre-planning of the exhibition. We liaise with the show organisers to ensure that all required documentation is completed for the stand build, so minimal delays occur on the build.
Our dedicated Project Managers ensure the exhibitor has all the information they need, so they can arrive onsite with ease to dress their stand. ME V ME are looking to exhibit at a well known show to us later in the year: FIBO 2017 in Cologne.
ABOUT ME V ME
ME V ME is inspired by my own fitness journey that led me to realise the secret to a healthier and happier self starts with your mind. Once you stop competing with others and start to believe in you, everything falls into place as your fitness grows and you gain inner confidence that will balance both mind and body.
ME V ME the brand is about what works for you, to find a balance between what you like doing and what you know will benefit both your mind and body.
Never under estimate the Investment you make in yourself. To invest time in you, will create a happier and healthier self and investing in high quality and inspirational Activewear that helps you to believe in yourself…..because fitness is as much about training your mind as it is your body.
Kate x
www.mevme.co.uk