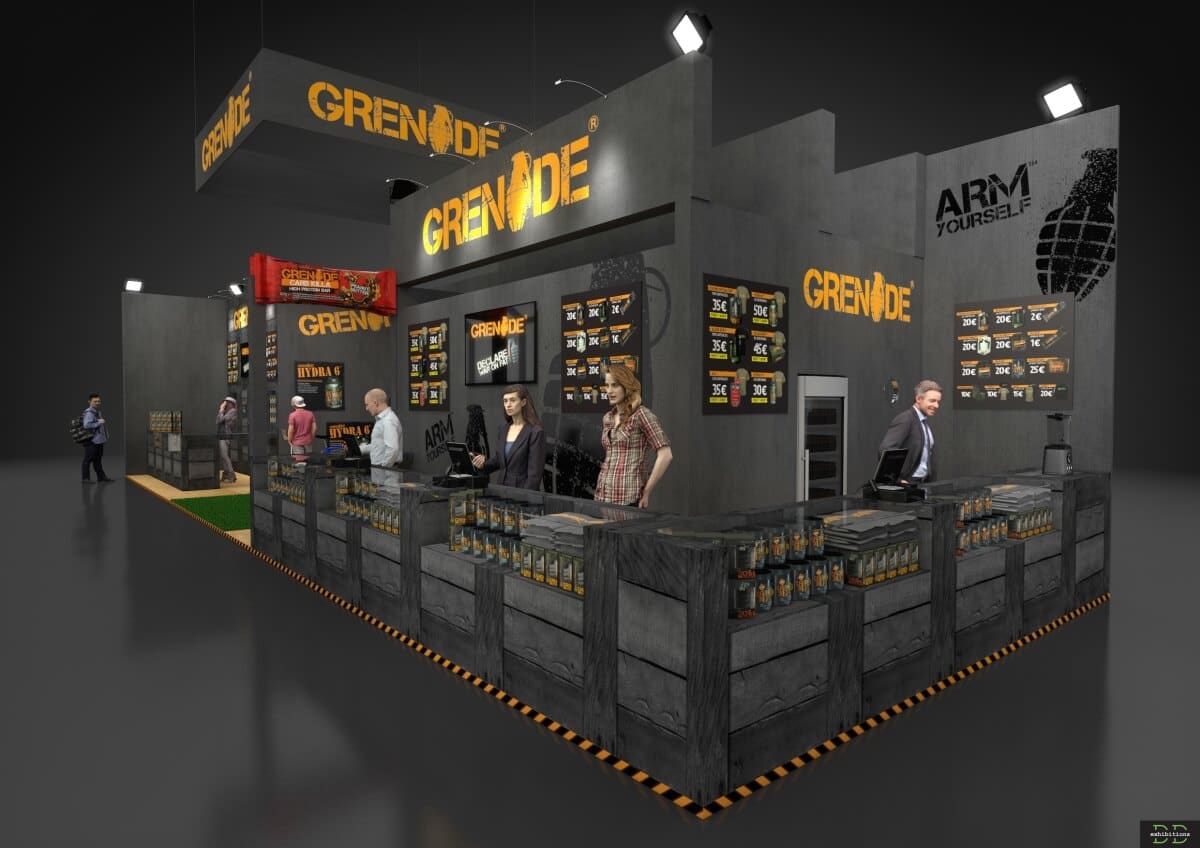 Custom and semi-custom exhibition stands give you the creative flexibility to allow for the boldest and most effective exhibit. Here a DD Exhibitions, we're proud of our team who have an impressive combined experience in exhibition booth design. From briefs, to modelling, right through to set build, we work to the highest standard across the whole process.
We know exactly how important the exhibit design is in maximising your visibility and achieving the outcomes you're seeking from attending an exhibition, so we thought we'd share a little about the work that goes into the exhibition design process. Read on to discover the steps we take to design our striking exhibition stands.
The Exhibition Design Process | Step 1: The Initial Brief
We don't expect our clients to come to us with a complete view of how their exhibit should look, and in many cases we have an unstructured face-to-face chat first to go through their expectations and vague ideas. However, some clients do come to us with a brief to help us bring whatever vision they have to life. In either case, one of our directors, project managers and/or production staff will meet with you to go over the details of your company, the desired exhibit, and the type of show being attended. We take every care to listen to your ideas and objectives before designing an exhibit, to ensure you get the very best outcomes for your investment.
When putting together a brief, you may initially find it difficult to think of relevant information to include, but once you know what questions to answer, you'll start getting a clearer view of some of the desired aspects of your exhibit design. Who you choose to be involved in the exhibit design process depends on your company structure, but it helps to keep the relevant people in the know throughout the process and make sure they're on board with any decisions you take.
So what could you include in a brief?
Branding and marketing
Does your company have any brand guidelines, artwork, logos, images or graphics to give us?

Which products or services are you looking to showcase? Do any of these need particular emphasis?

What are your main objectives for the show (e.g. looking to promote brand awareness)?

Is there a particular demographic you are pitching to at the show(s)?

Are you running any marketing campaigns at the same time as the show(s)?

What are the Unique Selling Points of your company or product?

Who are your competitors at the exhibition(s)? What do they do well, or not so well? What is their branding?
Exhibition specifics
Do you have one show planned, or multiple? Where are these? Will you want the same exhibit for these shows?

Have you attended shows before? What worked well, and what didn't work?

What are the expected stand sizes? What are the specifics of the space available?

Is there any information the exhibition organiser has given you that would be useful for us?

What industry is the show in?

Who will the audience be: is it business-to-business or business-to-customer?
Desired features and budget
What activities will you be undertaking on the stand? Can you anticipate particular spaces needed for this?

Are there any particular features you're interested in (e.g. a certain type of lighting)?

Do you have a ballpark budget we need to keep to?

Do you have any images of stands you've seen, or rough sketches to provide to help us envision your desired stand?
You might also find it useful to bring any questions to contractors. Their ability to answer your queries can signify their competence in carrying out your vision, and help you iron out smaller details you might not have sorted yet.
The Exhibition Design Process | Step 2: Developing the DD Exhibitions Brief
Once we've discussed your project, we are ready to begin working on the design concept of your stand. Thanks to the proficiency of our team, we can prepare a design concept for our clients that helps convey the message discussed in the initial brief, bringing you closer to your business goals.
Creating our own brief
After our meeting(s) with a client, we start to put together our own brief to help guide our designers in their process. We collate information the client has given us, and combine that with our industry knowledge of how trade shows function and how the exhibit needs to fulfil certain criteria. Our team knows exactly how to turn ideas into useful features that allow you to use your exhibit exactly what you need it for.
For example:
If you are using the stand for multiple shows,

we will suggest laminating the surfaces to protect it from damage and giving it durability to do what it does best: look good!

Are there items or products that need to be kept in the stand?

We will suggest storage areas to keep these in, ether hidden or displayed, depending on the nature of the goods.

If you want to serve food or drinks,

we will suggest fridges to be integrated into areas of the stand, as well as counters and serving areas.

We will propose layouts of certain areas

depending on what activities need to be carried out. These could be anything from open sales areas, to more intimate meeting areas with varied accessibility.

If you're using the stand multiple times,

we can have it designed in a way which means we can use the same elements again for just the refurbish cost, saving you money.

We recommend practical considerations

such as wiring being thread under the flooring, and storage solutions for unsightly items.

We take into consideration possible colour clashes

with the stand's aesthetics, such as the colour of the carpeting in the exhibition hall's walkways.
Once this is done, we're ready to take it to the design team!
The project manager meets with the designers, handing over their sketches, suggestions and relevant client products. We run through our brief to open up the chance for discussion, and hash out any specifics that help the process run smoothly.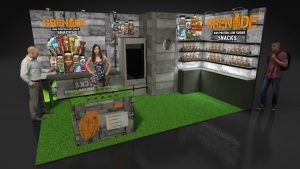 The Exhibition Design Process | Step 3: Creating the Exhibit Design
When our brief has been presented to our designers, they will often kick off by brainstorming different ideas, meticulously considering each objective, theme and message outlined in the brief. They start by mapping out rough elements of the stand, sketching out finer details to be considered. Given the creative nature of this process, no two project concept developments are the same! Each designer has their own preferred method of going through their creative process, and how they wish to present this back to us for further evaluation, but some of the aspects they'll consider are:
Possible colour schemes

Space layout, and the dimensions of these

Interior design such as flooring and furniture

Design features which reflect the company background

Any previous designs the client has used

Structural elements that can be repurposed for future shows

Placement of more sophisticated elements, such as interactive media

Once they have laid out all the components of the exhibition design, they bring this to life using state of the art 3D computer aided visualisations to really help our client picture how it will look on the day. This prototype is sent to our project manager, who checks if this accurately captures what the client envisaged and meets the requirements of the show.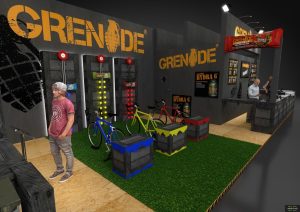 The Exhibition Design Process | Step 4: Bringing The Design Back To You!
When the project manager is happy with the exhibit design, we take this prototype back to you, our client. We're always excited to show you what we've come up with, and present how the finished product will look using a variety of media.
Most commonly, we use the 3D visuals to show you how the stand will look from a variety of angles, and in use. This way, we can run through the different areas and aspects of the build, linking it back to how you can use this space to meet your company's exhibition goals. For more complex builds, we have been known to use 360° videos to give a fully immersive run through.
We always take this opportunity to gain feedback on the design, and check that you're as excited about it as we are! Where there are other suggestions, we bring this to the designer and it's back to the drawing board. Every step is taken to make sure the final product is perfect, so we're certainly not afraid of amending our work to give you the best product.
—
The 4 stages involved in designing our spectacular stands showcases our will to create the most eye-catching and bespoke exhibition stands. Every step we take is done with care and consideration, based on our team's extensive combined experience in exhibition design and build.
Interested in how we can use our experience to create your boldest stand yet? Get in touch!