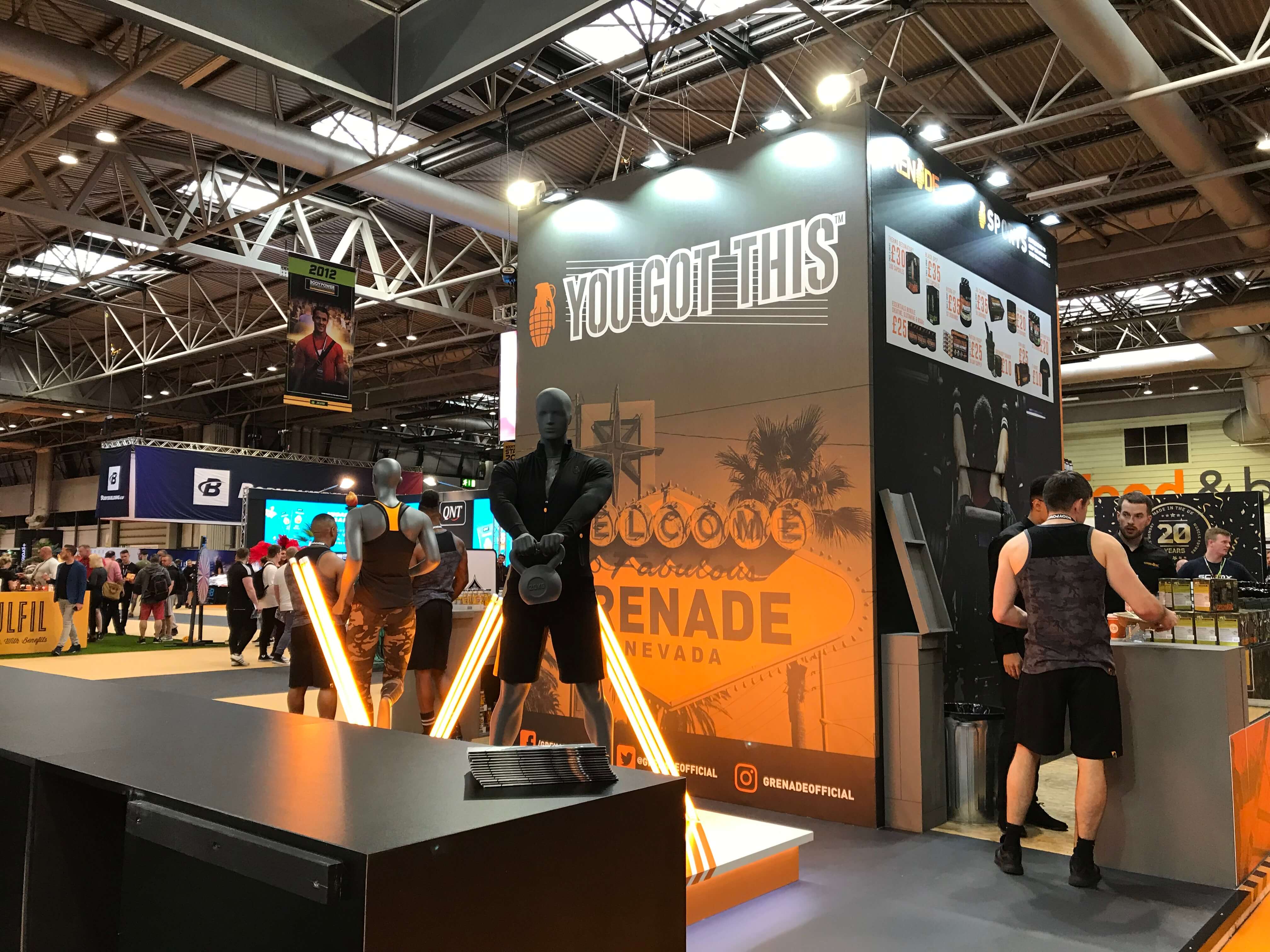 The health and fitness industry is booming, in part due to the popularity of wellness bloggers on Instagram. Influencers and celebrities are all using social media to share their fitness regimes, meal plans and are willingly promoting products that support their healthy lifestyle. As a result of this, we've seen exciting innovations in training equipment and new approaches to dieting. These are all fuelling an ever-growing industry helping consumers to not only look good but to feel good too. There has never been a more exciting time to attend and exhibit at sport trade shows.  Here at DD Exhibitions, we offer sport show stand designs in Manchester for brands to exhibit globally across the trade show network.
In this blog, we demonstrate the wealth of experience we have working with sports, health and fitness related brands. It can be difficult to stand out amid the increasing competition in the industry. We build stands that cut through the noise and draw the crowds. Read on the see some of the brilliant designs we created for Oatein and Grenade, leaders in sport nutrition snacks:
Sport Show Stand Designs Manchester: Grenade at Body Power
Bodypower is a huge, three-day fitness event. It targets four different audiences; Fitness & Lifestyle, Sports and Performance, Aesthetics and Bodybuilding. We have worked with Grenade at a wide range of sport shows across Europe, but we were particularly excited about this one.
We brought the space-only stand to life, creating a multi-faceted booth attracting attention from all angles.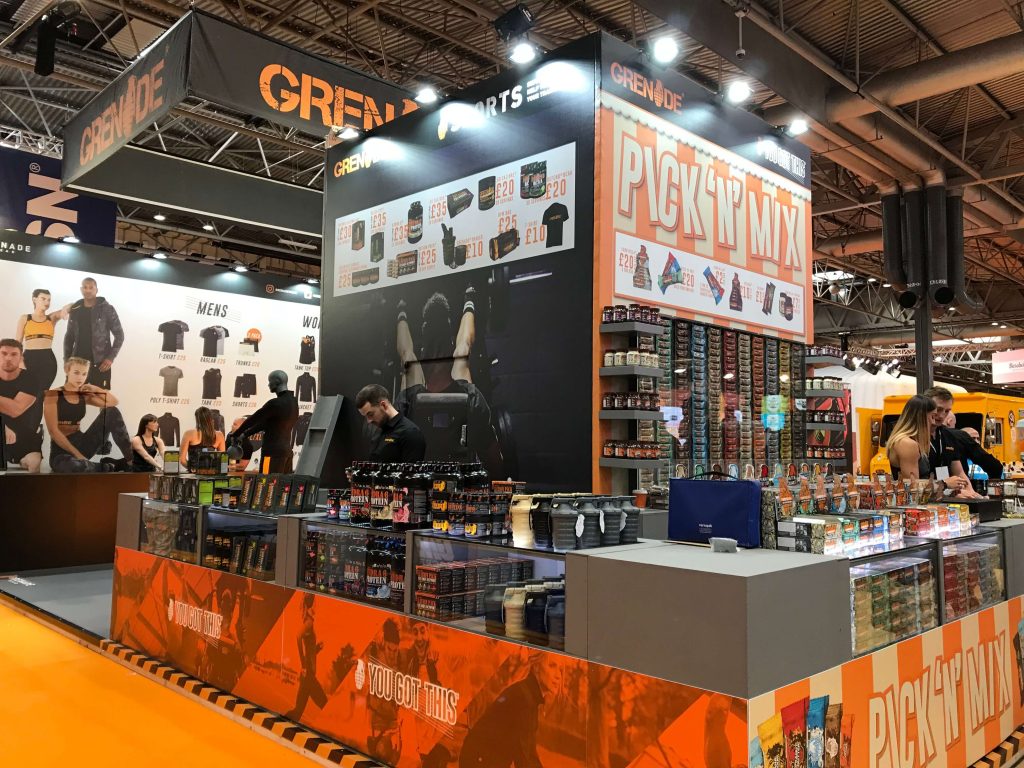 This served the different products they offer, with an area for apparel, on-the-go snacks and sports nutrition products. The result was a colourful, eye-catching and high-impact stand. The mannequins and neon were certainly a stand-out feature.
If you're thinking about exhibiting at sport shows, why not check out our blog post on Sport Show Design Tips to get you inspired?
Sport Show Stand Designs Manchester: Oatein at Fibo
FIBO is the world's biggest sports, health and fitness show – so not one to miss! This build for Oatein proves that even without a huge space-only stand you can make an impact. Thoughtful graphic design is key here – the products and USP are centre-stage. It's clear, concise and memorable, proving that simplicity can be equated to elegance: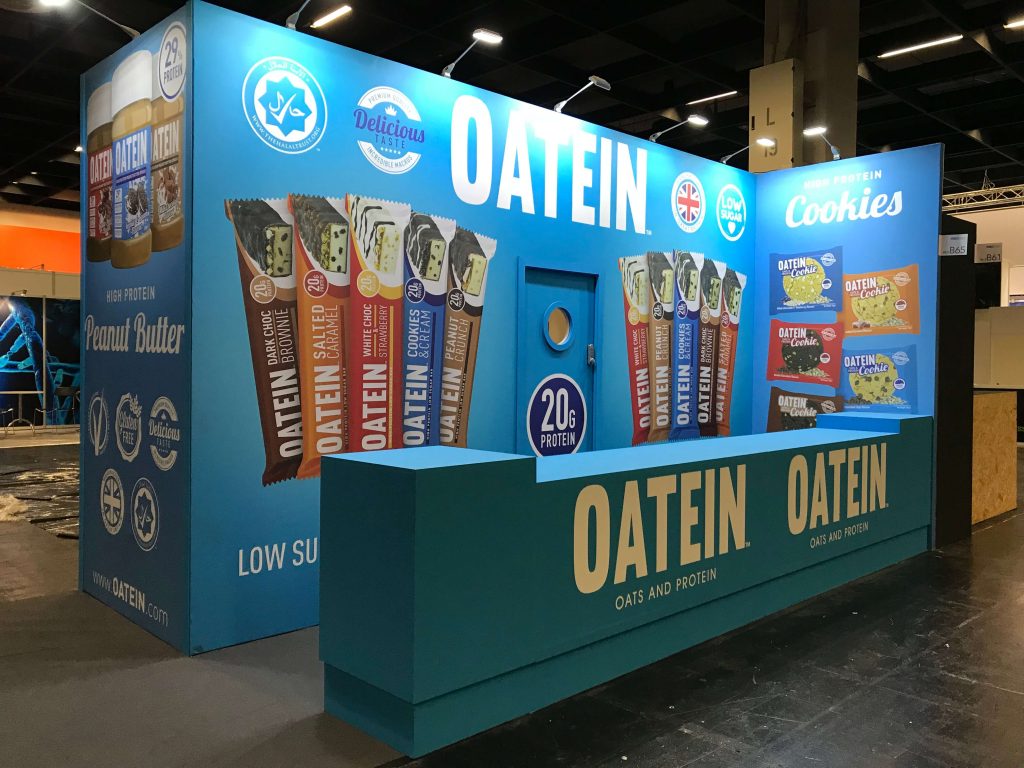 Choose DD Exhibitions for as your sport show exhibition supplier. We're a family-run business and ESSA member with a wealth of experience and a friendly team of experts that can help no matter the event or industry. Compete in a highly connected world with our beautiful and functional stands – it's what your brand deserves. Call us or pop into our workshop today.