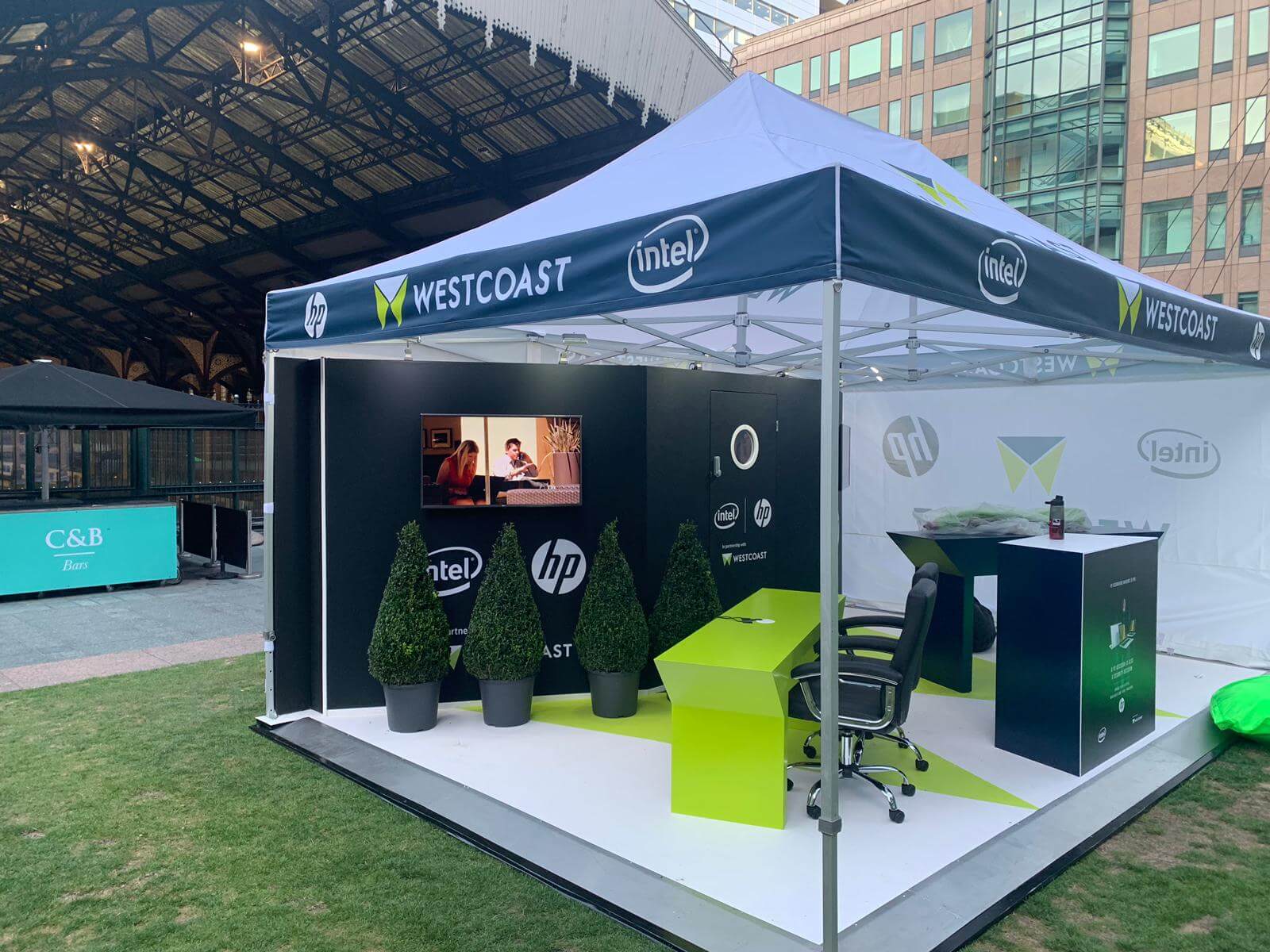 Competition can be tough at outdoor events…
Exhibiting at an outdoor event is an exciting opportunity. Whether its at a music festival, sport event or pop-up, the sky really is the limit when it comes to your stand design. Outdoor events are a playground for brands and are a chance to interact with your audience in fun and innovative ways. Are you trading at an outdoor event soon but unsure where to start?
Then, good news, you're in the right place.
We're an exhibition stand contractor with big ideas. Our creative ideas for exhibition stalls have helped brands at leading events across the country and the mainland, including the British Formula One, The Scottish Open, Glastonbury Festival and The Queen's Championship.
Work with DD Exhibitions on your Outdoor Event
At DD Exhibitions we offer a complete in-house stand design and build service and have over 40 years experience in the industry. That means we know what it takes to exhibit outdoors. Our experienced Project Managers will handle every detail of your stand, ensuring it is not only eye-catching, but that it is practical too.
Your stand will be manufactured in our 20,000 sq ft workshop, before being carefully transported to your event in our own fleet of vehicles. All you'll need to do is turn up onsite, and find your stand set up and ready to go.
Contact our friendly and experienced team to discuss your outdoor event plans today.
Call Us Today on

0161 509 6603
Examples of our Outdoor Exhibition Stands
Exhibiting at outdoor events doesn't mean you'll have to compromise your brand image or experience. We can build you a bespoke stand that acts as a temporary store front, like this one we built for Visit Scotland at the Scottish Open. Once inside the stand it was hard to believe it was outdoors, yet alone temporary. We use high-quality materials and finishes to maintain your standards whether in the hall or out in a field.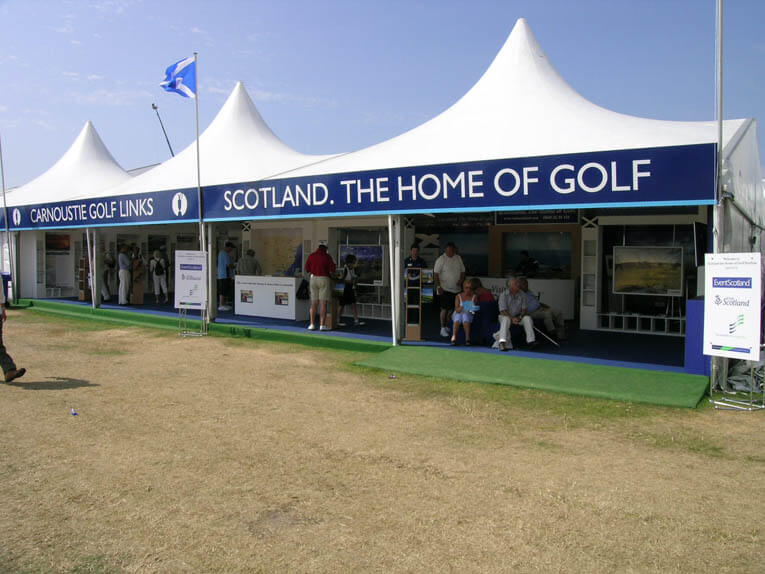 Experiential Stands for Outdoor Events
Experiential stands are a way to start real conversations with your audience and find out what makes them tick. We built this stand for DHL outside the Old Trafford, which challenged visitors to a football game with Manchester United's famous mascot. What better way to chat with prospects than whilst having a kick around?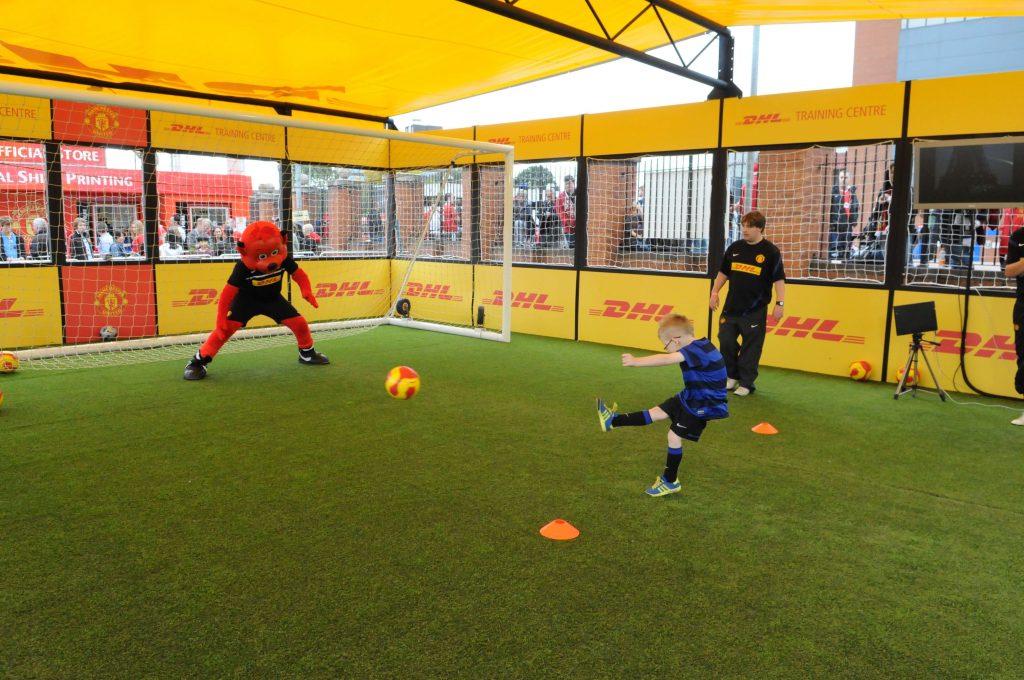 Vehicle Fit-outs from DD Exhibitions
Vehicle fit-outs take portable to the next level. If you're thinking of exhibiting at several outdoor events in one season, it might suit you to convert a trailer to your needs. You'd be surprised at what can be done with a vehicle. We can transform nearly anything into a bespoke stand of the highest quality, like this one we built for the Department for Business, Energy & Industrial Strategy: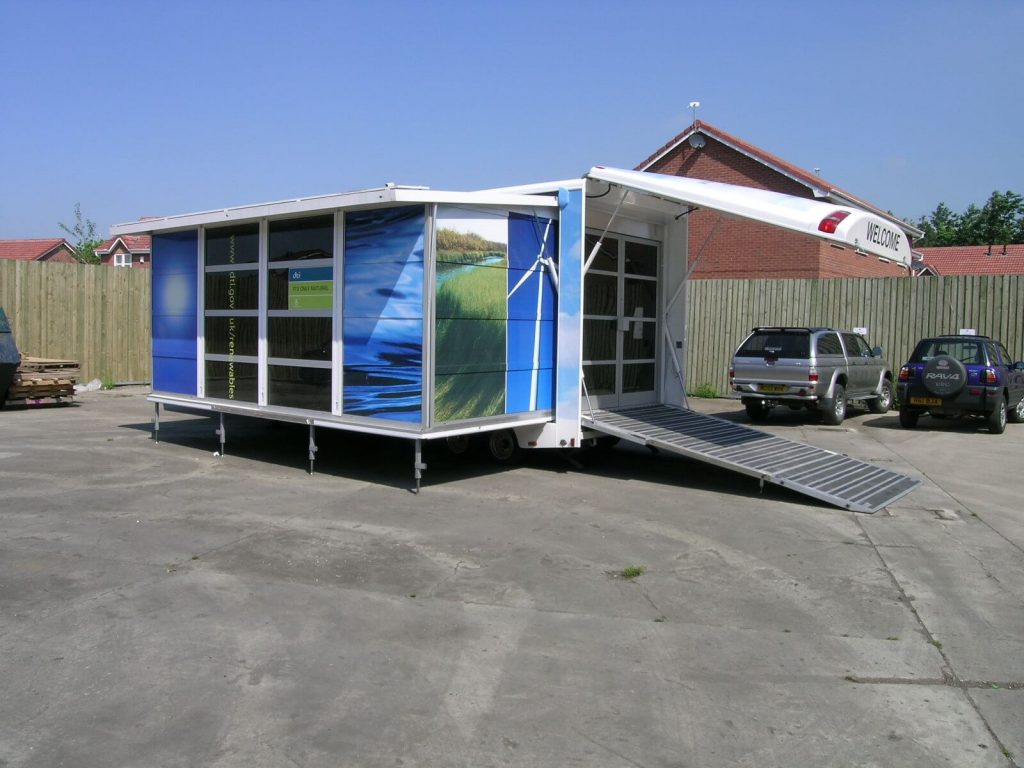 No question is too big or small for our team. As experts in the event industry, we're on hand to help you as you plan for your outdoor event. Contact us today to find out how DD Exhibitions can ensure the success of your exhibition plans. 
Call Us Today on

0161 509 6603