The Scottish Event Campus hosts a wide array of exhibitions throughout the year. The Baby and Toddler Show, Celtic FC Festival and the Homebuilding and Renovating Show are examples of events taking place in just the next few months alone! Of course, you'll want to make the most of these crowds with a stand that boasts impressive exhibition design. Before you head to the centre to exhibit your brand, take a look at our 10 tips that will ensure you leave an impression on the crowds.
10 Ultimate Tips for Exhibition Design Glasgow
Tip #1: Contrast Materials and Textures
Most exhibition stands feature smooth finish walls displaying the brand's graphics. Why not stand out from the other exhibitors by playing with textures and materials? We did just that when designing an eye-catching stand for Pennine at 100% Optical, by including semi-transparent printed screens, as you can see below. These worked well instead of a typical wall, giving an enticing glimpse into the stand, too.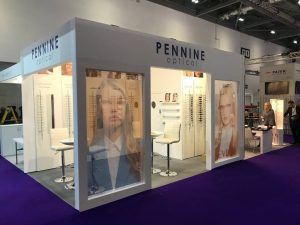 Tip #2: Don't Overlook Lighting
Lighting can make a real impact and need not to be limited to basic functionality; it can accent, illuminate and sign-post too. Think outside the box and use lighting as a decorative feature, like in this stand we built for Polypipe, in collaboration with Astro Exhibitions at Future Build 2019. The blue LED light not only made an impact on the exhibition floor, but it did online too, attracting a very positive response on our social media channels!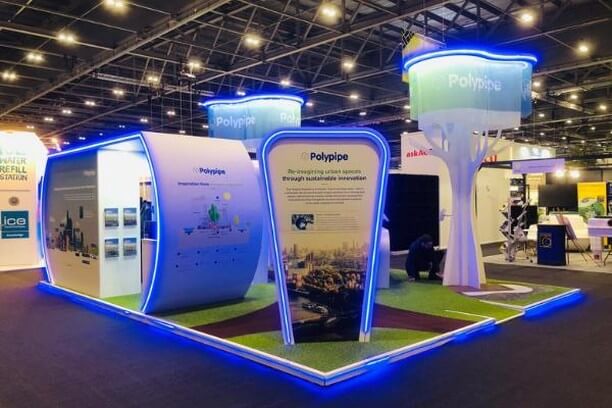 Tip #3: Make space to connect
Above all, your stand needs to support your business goals. Ensure your stand gives you space to make connections and arrange some important meetings. How much space you dedicate to this will depend on the size of your stand. However, whether it's a simple table to gather around or a full-sized meeting room, making space to connect will provide you with the comfort needed to create lasting relationships.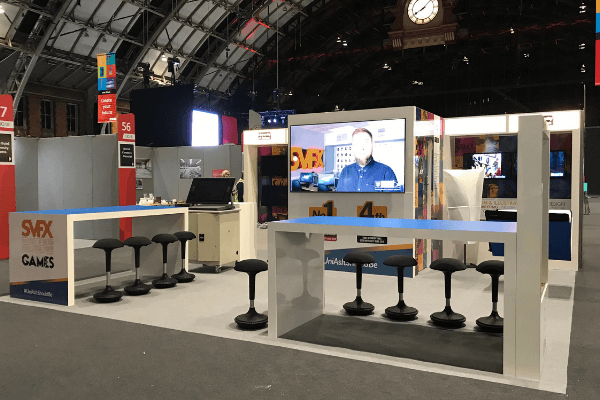 Tip #4: Offer an Experience
So, how do you create an appeal strong enough to lure in exhibition-goers? Today's consumer is generally cynical of marketing practice and looks for value in their exchanges, making them harder to sell to. Despite this, there is a huge opportunity to create strong relationships with your consumers if you can position your brand as interesting, exciting and useful. Consider incorporating a stunt, event or immersive experience to create high-quality leads.
Tip #5: Incorporate Digital Features
Consider whether or not you'll need some digital capabilities on the day. Is it worth getting a full laptop/desktop station built in, or some iPad mounts installed on the desks? On a more decorative level, you might like some digital signage to add an extra edge. Figuring out these details early on will make for a much sleeker integration down the line.
Tip #6: Consider Reusability
Planning on exhibiting at more that one show? Speak to your exhibition stand designer about thinking ahead. Your stand can be designed as a one-off showstopper or in a more adaptable format to fit different sized spaces. As a result, you'll have a bespoke stand that will serve you again and again, like these three stands we built for Grenade:

Tip #7: Engage your Audience with Product Demos
A well-understood benefit of attending exhibitions is the chance to get in front of your ideal customer and get personal with your audience. If you offer a product or service why not show visitors exactly how it works? That's something that you rarely get the chance to do during the sales process but that has a strong influence on your potential customers. Consider creating a dedicated area to do this and really show-off your brand!
Tip #8: Use High-Impact Signage
There's often confusion between high-impact signage with busy signage. In truth, less is almost always more. Ensure your graphics are simple and eye-catching, rather than cramming too much info onto your walls and signage. They should act as a hook, drawing in visitors so that your staff and products can tell the rest of the story.
Tip #9: Incorporate Storage Space
A bespoke exhibition stand is an investment and often months are spent ensuring the perfect design and manufacture is achieved. For this reason, it is essential that storage space is built in to hide personal belongings, stock and even rubbish. If you're planning on selling stock on the day, you might like to include a discreet storeroom. This Beechfield stand we designed and built is a great example of one in use:

Tip #10: Take a Unique Direction
Ultimately, whatever features you decide on for your stand, it needs to be unique. Exhibitions draw a huge number of crowds and visitors and so it is crucial that you catch the right attention to maximise your investment. No matter what stage of the process you are at, our friendly team of experts can design and build your best stand to date. Contact us today for a quote:
Call Us Today on

0161 509 6603
Exhibition Stands Glasgow: DD Exhibitions