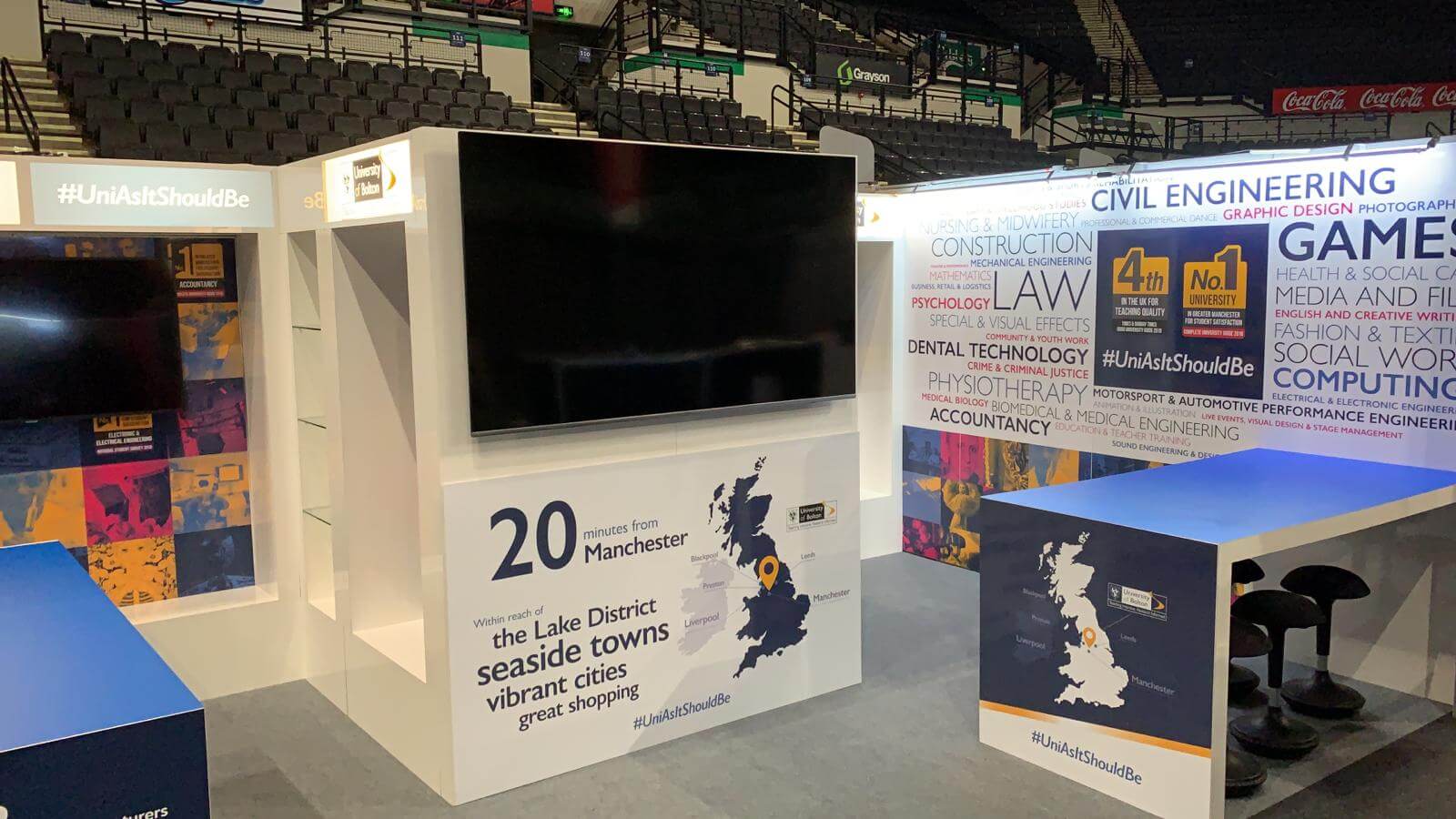 Your exhibition stand can serve you beyond its core purpose of simply housing you at an exhibition. In fact, the best and most memorable stands always make creative use of their space. A good stand will showcase your product or service, but a great stand will leave your audience thinking about their interaction with you long after the event. This blog gives you three prompts to start thinking outside the box whilst planning your stand.
Create your ideal environment to meet and connect with clients.
One thing we love about exhibition stands is the ability to create a separate atmosphere inside the stand to that of the exhibition hall. By using walls, lighting, sound and even colour and furnishing, your ideal space to connect with clients can be created. Think about how you want your client to feel, and what you want them to think about you.
For example, a luxury interior brand could show hotel executives what their products look and feel like in situ. Seating areas or booths could be created with their products so that attendees can experience them in the same way a hotel guest would.


Service providers can achieve something similar, too, despite not having their own products. Space and furnishings can be used to infer brand qualities (such as being knowledgable, or caring, for example). This can be simple; an education provider might include a smart screen presentation area into their stand, for instance.
Use your stand to increase your social media presence.
Sure, your stand has to create an impact on the exhibition floor, but had you considered what impact it could have online, too? Give people a reason to want to share your space! It could be an 'instagrammable' moment in the form of a photo opportunity or a competition that encourages the use of a hashtag or a reposted graphic.
We achieved this for Floorbrite. The highlight of the stand was a tank big enough for someone to stand inside. Once inside, attendees were invited to catch as many balls as they could as they flew around the tank. Many attendees videoed and shared clips of their colleagues and friends attempting the challenge, increasing brand awareness for the company:

Exhibition display stands can tell your brand's story.
Another creative use of your exhibition display stand is to use design features to tell your brand's story. Although general advice is to avoid large amounts of text on key elements of the stand, well-placed and thoughtful text can serve as your voice when you might not get the chance to speak to everyone.
This works well particularly at busy exhibitions as a hook to encourage people to find out more, or if your brand is in its launch phase and lacks familiarity with the audience. A great example of this is seen in the stand we built for the University of Bolton, at the busy UCAS exhibitions across the UK: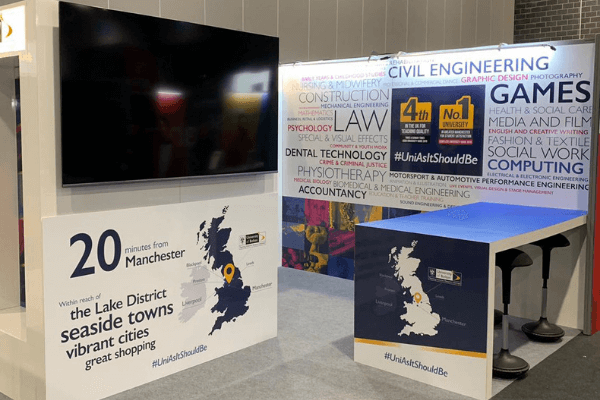 At DD Exhibitions we can design and build an exhibition stand for your brand that both surprises and delights your audience. Contact us today to speak to our experienced team and get that dream stand in motion. 
Call Us Today on

0161 509 6603