It happens to the best of us; you're rushing around your stand engaging with visitors when you suddenly notice it's not looking quite as tidy as when you started. It can be hard to stay on top of things at peak times, but it's so important that your stand is inviting and attractive throughout the day. It might feel like yet another consideration to add to your exhibition planning, but being prepared will make it so much easier to manage on the day.
Keeping your event set tidy at an exhibition: Tip #1
A tidy event set starts, like most things, at the very beginning! Considering how you will keep the event set tidy during the design process will make it much easier when the day comes round. Here at DDEx, we can include discreet cupboards and drawers to help you keep personal belongings and equipment out of sight. There are endless possibilities to personalise your stand to your needs. Cables for TVs, iPads and various tech instalments can be hidden away, leaving a sleek appearance. Subtle drawers and even a bin could be integrated into a counter for all of your team's, and your visitor's, coffee cups and rubbish. We love the counter we built for Lincrusta at Clerkenwell Design Week: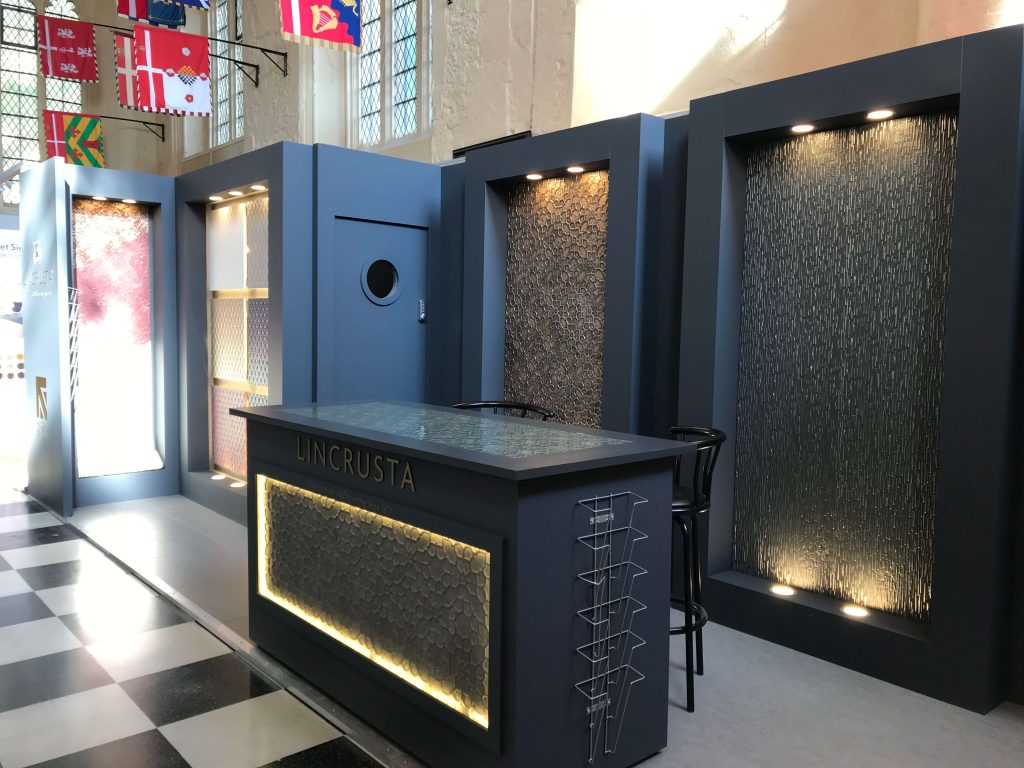 Want to know more about the DDEx design process? Click here to find out more! 
Keeping your event set tidy at an exhibition: Tip #2
So that's everything tucked away out of sight, but don't forget to keep freebies and handouts tidy too. Clever storage solutions can help you avoid unsightly piles of leaflets and pens. Why not repurpose vases, fish bowls or mason jars as holders for these items? We love to think outside the box, so when a client asked for something different to the usual Zed-Up Literature rack, we were naturally excited. We built apertures into the store walls in their marketing area, to showcase the different brochures they had for different areas of the business. Here's the finished result: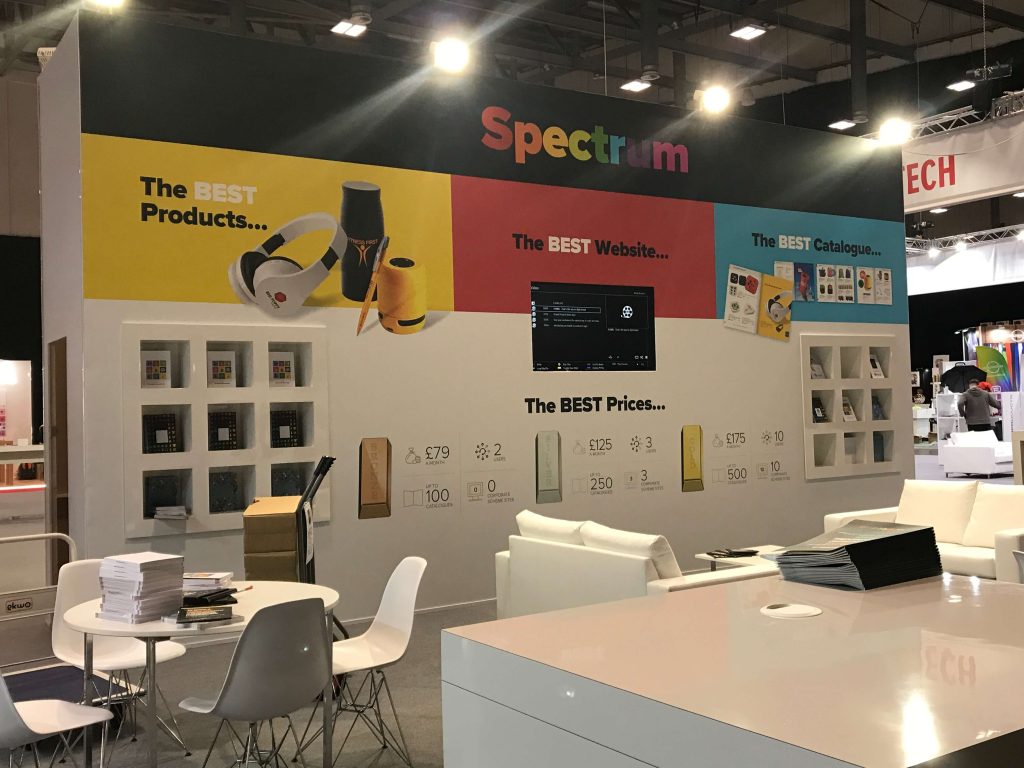 A popular solution for larger stands is a storeroom, which can be built into the event set. These can also be kitchens too if you will be serving refreshments on the stand. The bonus to these is that as they are walls, they can also be used to add graphics too, so are a great opportunity to add more marketing materials such as images of your brand or product advertisements. We're have built countless storerooms in our time, including this one for Grenade at the Body Power Expo: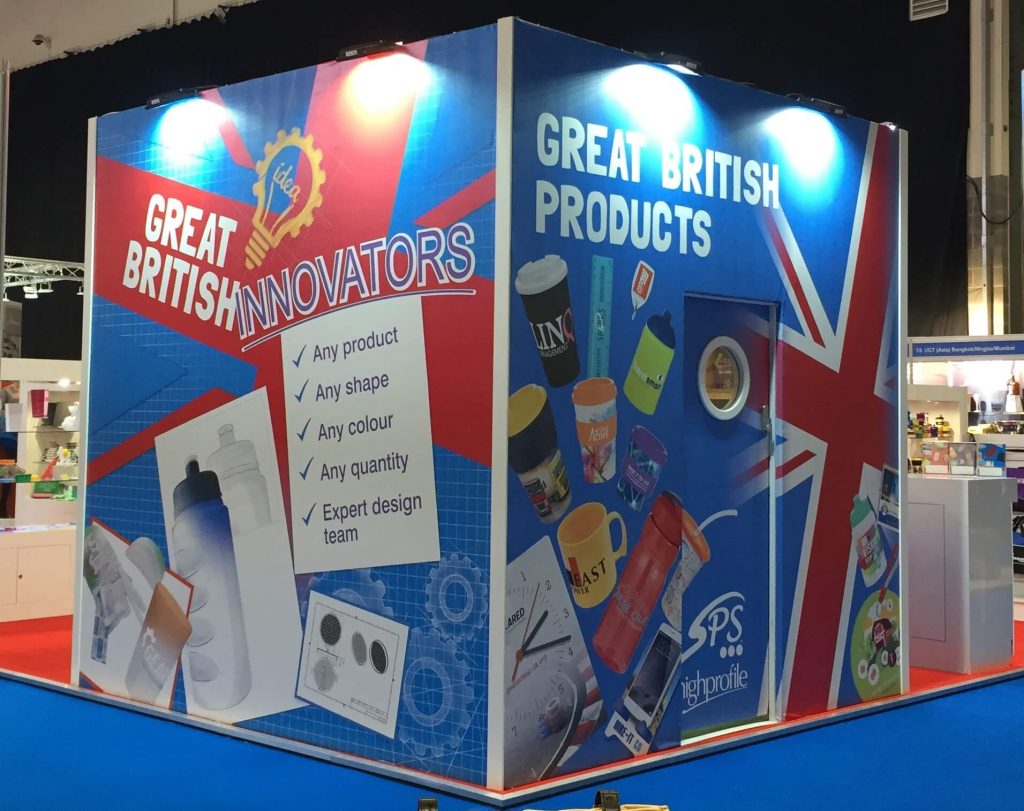 Keeping your event set tidy at an exhibition: Tip #3
So that's the stand and its contents tidied, but what about your staff? A tidy team 'look' will enhance the polished feel of your exhibition set. Consider a uniform or dress code in line with the colour scheme of your stand. It can be as inexpensive as wearing a certain colour, but it will optimise the investment you have made in your exhibition booth. Name tags are useful too, making it easier for visitors to ask for your help and build a relationship with your brand.
Here at DDEx, we can build you a stand that is as functional as it is beautiful. Let us know your ideas and requirements and we can design you a practical stand that will let you show off your brand at any expo. Contact us now!