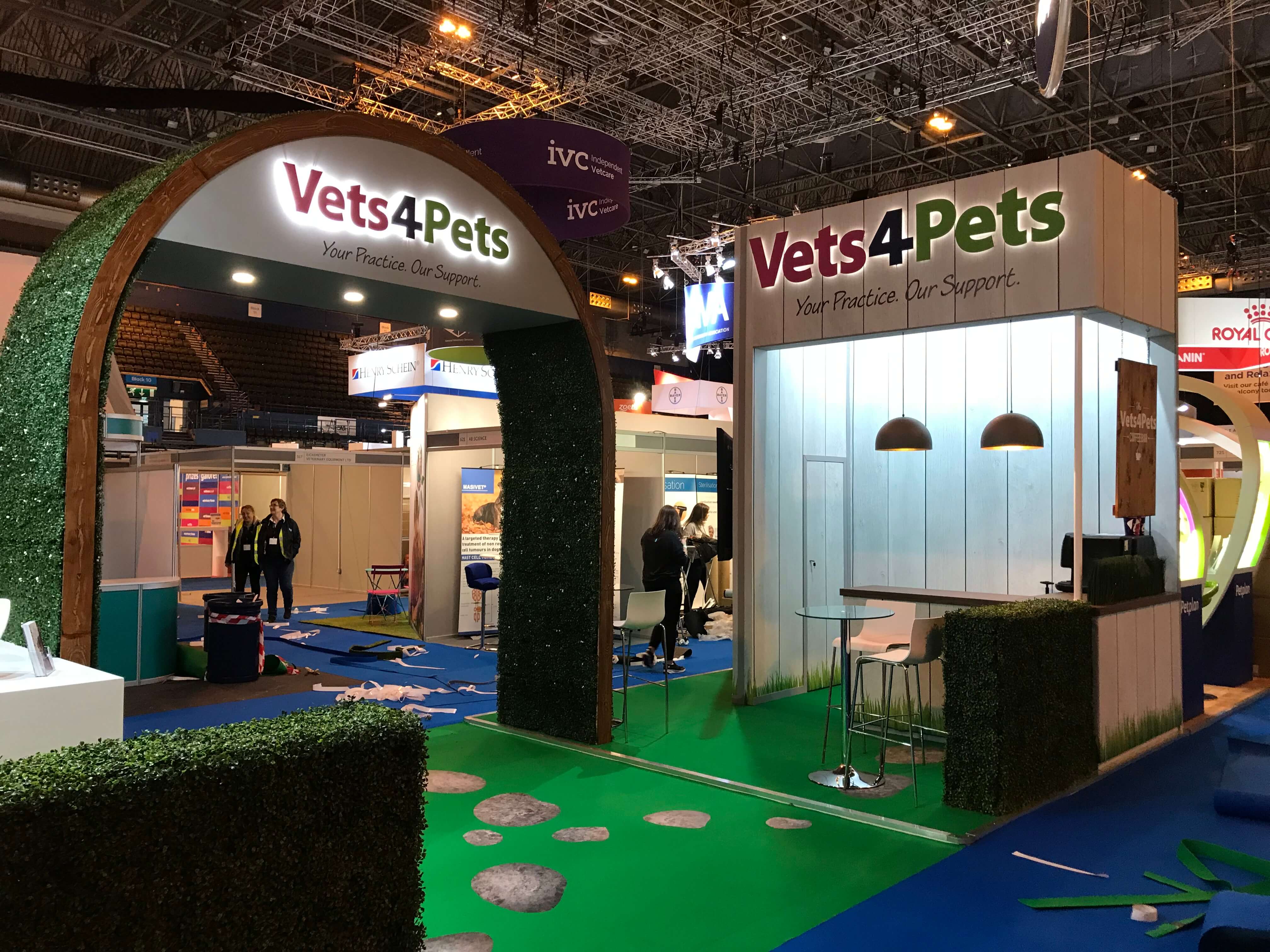 Your exhibit layout is arguably the most important aspect of your booth. The consequences of a bad exhibition design can be monumental: it can detriment the number of leads you generate, the footfall and even damage your brand. With this in mind, let us inspire you with some different exhibition floor plan design ideas that can maximise your investment, draw potential leads in and leave a memorable impression on your audience (for the right reasons!)
There is no one perfect room setup for exhibitions. Choosing the layout for you will depend mostly on your objectives. Exhibiting gets you in front of your customers but how are you going to engage them once you're there? Think about the reason you are exhibiting. Is it to:
Launch a new product?
Showcase a new service?
Give demonstrations?
Engage with potential buyers?
Although this list is not exhaustive, it includes the most common reasons brands decide to exhibit. For this reason, we've provided an exhibit layout idea for each of them.
Room Setup for Exhibitions: Idea #1 Launching a new product
Putting the new product at the centre of your exhibit – physically or through messaging – will help you when trying to get the word 'out there'. A typical example would be for a car or motorbike stand, with their new model on a raised platform in the centre. Although these create a dramatic focal point, they can be inflexible and costly to adapt for new products or purposes.
If you would like your stand to be more flexible, you could use the product itself as a design feature and keep your marketing space for more general brand imagery. A brilliant example of this is the stand we built for Grenade which included a glass cabinet full of their different products. The display can easily be transformed when there are a new product and shift in focus, whilst the walls carry the versatile branding materials. The L-shaped cabinet worked well to lead visitors around the exhibition stand as they looked at everything on display, lengthening the time spent at the stand.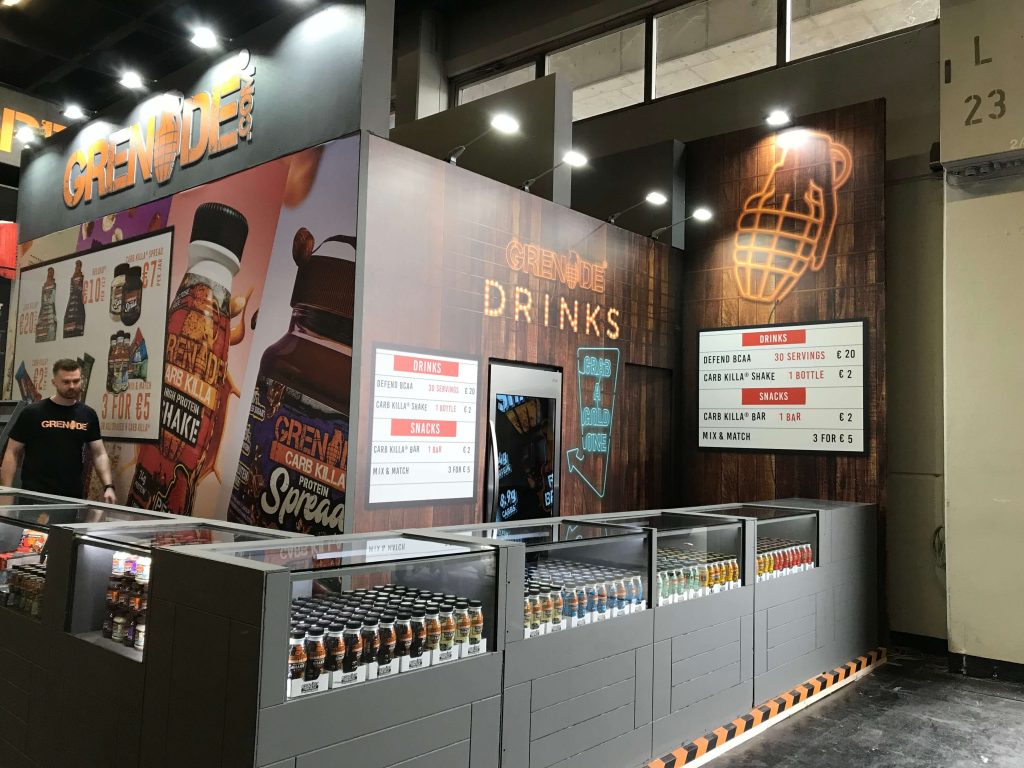 Read more about our work with Grenade here.
Room Setup for Exhibitions: Idea #2: Showcasing a new service
Showcasing a service can be difficult – gathering visitors around demonstration points can cause congestion and potentially put off visitors who are not willing to wait to get a good view. It can be easy to overlook the positioning of signage too, at risk of your brand image being lost amongst the congestion. An axis layout is a good solution to this problem. A central structure with high-impact, clear branding stands out to passers-by and draws them in. Ensure that you obtain the height restrictions for your stand and make the most of the space above you! Then, station various podiums and desks around this to engage with visitors and showcase your new service.
Room Setup for Exhibitions: Idea #3: Presenting and demonstrating
If you are planning to perform demonstrations throughout the day, consider configuring your layout somewhat like a theatre. A stage or clearly designated area will be the main feature, with plenty of room for standing or seated guests to easily view the presentations. Consider the kind of engagement you would like from your audience – if you would like visitors to get up and have a go, then perhaps a more casual standing arrangement is suitable. A rounded stage could encourage this kind of atmosphere and give the impression of a busier crowd.
However, it is important to ensure your stand is multi-functional, as an empty stage could actually drive traffic away when there is not a demonstration taking place. A tunnel-shaped or corridor exhibit layout could create the walls needed for alternative marketing materials and activities in between demos.
Room Setup for Exhibitions: Idea #4: Engaging with potential buyers
It can be a long day at an exhibition with visitors becoming increasingly wary as it goes on. If your main focus is going to be engaging in personal selling make sure your space is comfortable. Including a seating area in your exhibition booth will attract tired guests and also create a relaxed environment to have conversations with leads. A large open space in your booth will give you the space to do this, as well as giving a casual atmosphere which will put both your staff and potential customers at ease.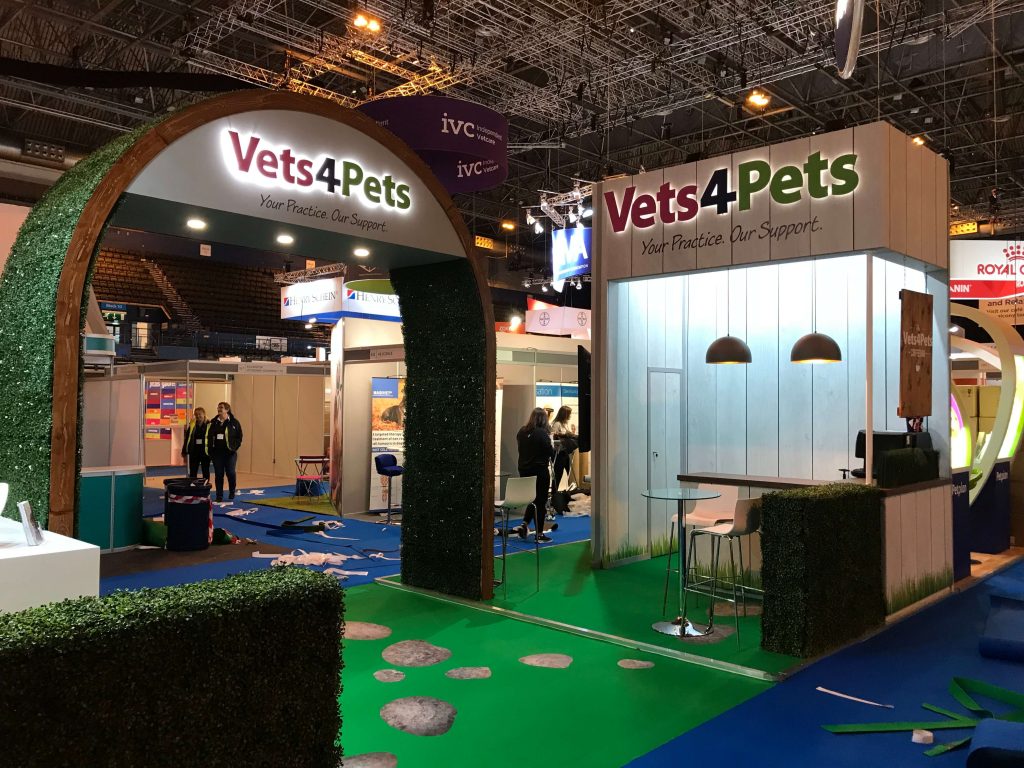 DD Exhibitions Ltd specialises in the design, management, transportation and installation of custom exhibit stands. Whatever your objective, we can build the stand for you. Contact us now.